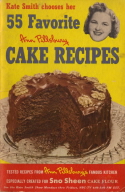 Here are pages 56 and 57 from the vintage cookbook "Kate Smith chooses her 55 Favorite Ann Pillsbury CAKE RECIPES". This was published in 1952 by Pillsbury Mills, Inc. Kate Smith was a popular singer and radio personality with a career that began in the 1930s.
You can view all the pages in this cookbook by visiting this category: 55 Favorite Cake Recipes: Kate Smith, just click a page title to view that section. There is a scan of the page included below, you can click the image to view a larger copy.
Cake Decorating
Decorating cakes is fun, for it gives you a chance to add your own individual touch. Here are only a few of the possibilities. You might start with these–then let your imagination roam!
THIS IS THE WAY TO MAKE A DECORATING TUBE: If you do not have a metal or plastic decorating tube, one may be made from heavy waxed paper, parchment or glazed paper. Cut in 19x15x12-inch triangle. Fold into cone and roll down point at wide end until top is level. Make as many cones as there will be tints of frosting.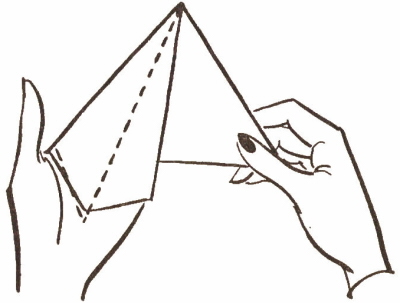 Plan design in advance and mark it off lightly with a toothpick. For dots, lines and stem designs, just cut off tip of cone. For leaf design, cut tip into V-shape.
To tint frosting, add food coloring sparingly by drops. See ornamental frosting, page 48.
THIS IS THE WAY TO TINT COCONUT: Dilute a few drops of food coloring in a small amount of water. Sprinkle over shredded coconut; toss lightly until blended.
To toast coconut, sprinkle in shallow pan and place in heated oven until golden brown.
Holiday Cake Designs
BIRTHDAY
Candy Stick Birthday Cake: See page 19.
Children's Birthday Cake: Dip animal crackers in melted sweet or semi-sweet chocolate. Arrange in circle around top edge of frosted cake. Place candles inside circle.
CHRISTMAS
Arrange red and green gumdrops (or candied red cherries and green citron) in wreath design around top edge of white frosted cake–or arrange in a Christmas tree design. Decorate cake plate with holly or small evergreens.
VALENTINE'S DAY
Arrange small red cinnamon candies in heart design on top of white or pink frosted cake–an arrow might run through the heart. Or bake any of the 8-inch layer cakes in heart-shaped layer pans; frost with white frosting and sprinkle with pink-tinted coconut. Serve on a lacy doily.
ST. PATRICK'S DAY
Place green gumdrops in a shamrock design on top of white frosted cake–or cover top and sides of cake with green-tinted coconut.
EASTER
Tint coconut pale green, sprinkle over top of white frosted cake. Arrange varicolored jelly beans in coconut. Or tint coconut pale yellow and sprinkle over top and sides of cake; arrange small spring flowers around edge of cake plate.
HALLOWEEN
Frost chocolate cake with orange frosting or orange cake with chocolate frosting. Make a "pumpkin face" on top of cake with candy corn or gumdrops. Or use decorating tube and make a witch, cat or other Halloween design.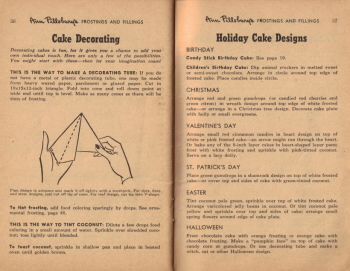 More Recipes For You To Enjoy: