This recipe was clipped from cardboard packaging of some kind and was found in a large collection, date unknown. I've typed it below along with a scanned copy.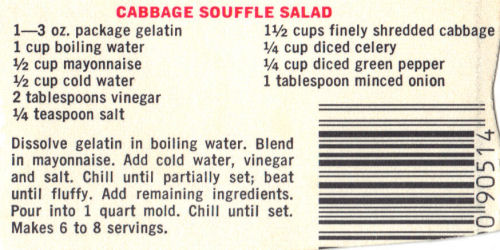 CABBAGE SOUFFLE SALAD
1–3 oz. package gelatin
1 cup boiling water
1/2 cup mayonnaise
1/2 cup cold water
2 tablespoons vinegar
1/4 teaspoon salt
1 1/2 cups finely shredded cabbage
1/4 cup diced celery
1/4 cup diced green pepper
1 tablespoon minced onion
Dissolve gelatin in boiling water. Blend in mayonnaise. Add cold water, vinegar and salt. Chill until partially set; beat until fluffy. Add remaining ingredients. Pour into 1 quart mold. Chill until set. Makes 6 to 8 servings.
More Recipes For You To Enjoy: