This recipe comes from a promo recipe sheet by Mazola Oil titled "National Chicken Cooking Contest Winning Recipes". This was found in a large collection, date unknown. Recipe is typed below along with a scanned copy.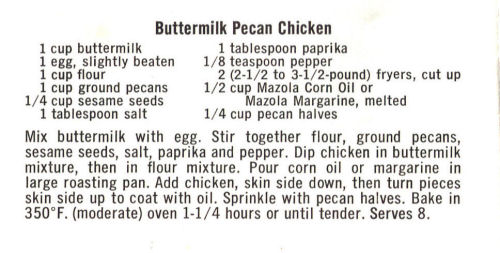 Buttermilk Pecan Chicken
1 cup buttermilk
1 egg, slightly beaten
1 cup flour
1 cup ground pecans
1/4 cup sesame seeds
1 tablespoon salt
1 tablespoon paprika
1/8 teaspoon pepper
2 (2-1/2 to 3-1/2-pound) fryers, cut up
1/2 cup Mazola Corn Oil or Mazola Margarine, melted
1/4 cup pecan halves
Mix buttermilk with egg. Stir together flour, ground pecans, sesame seeds, salt, paprika and pepper. Dip chicken in buttermilk mixture, then in flour mixture. Pour corn oil or margarine in large roasting pan. Add chicken, skin side down, then turn pieces skin side up to coat with oil. Sprinkle with pecan halves. Bake in 350°F. (moderate) oven 1-1/4 hours or until tender. Serves 8.
More Recipes For You To Enjoy: