This article featuring two recipes for filling and frosting was clipped from American Home magazine that was published from 1928 to 1977, date of this clipping is unknown. Recipes are typed below along with a scanned article.
Butter Fudge Fruit Filling (gourmet)
Preparation time: 10 min.
1 tbsp. butter
2 cups sifted confectioners sugar
1/8 tsp. salt
1 egg
1 sq. (1 oz.) unsweetened chocolate, melted
1 tsp. vanilla
1 cup seedless raisins, chopped
CREAM butter, add sugar, salt and egg, beating until creamy. Blend in chocolate and vanilla and add raisins. Spread between layers of your favorite chocolate cake or double recipe of *Betty's Chocolate Cake (RecipeCurio Note: Recipe for cake was not included with this article). Ice with Maple Nut Frosting.
Maple Nut Frosting:
Preparation time: 12 min.
1 pkg. (3 oz.) cream cheese
2 tbsp. cream
1/2 tsp. maple flavoring
1 tsp. vanilla
2 1/2 cups sifted confectioners sugar
1/2 cup sliced walnuts
Mash the cream cheese and blend with the cream, maple flavoring and vanilla. Add confectioners sugar to make an icing stiff enough to spread, then add the nuts and mix well. Spread on top and sides of cake.
Note: If you can obtain it, soft maple sugar may be used.
Submitted by HERMAN SMITH
Tested in THE AMERICAN HOME KITCHEN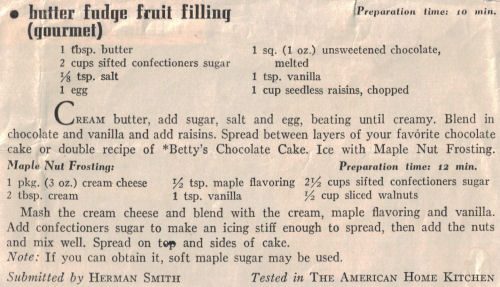 More Recipes For You To Enjoy: