This recipe was written on a lined index card and found in a large collection, date unknown. I've typed it below along with a scanned copy.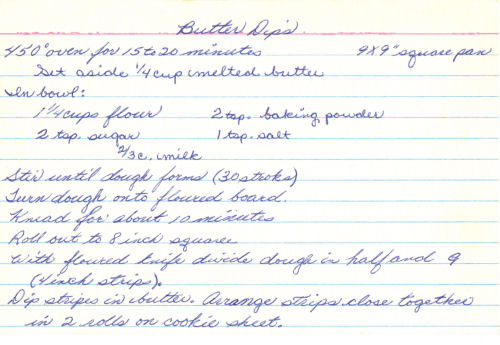 Butter Dips
450° oven for 15 to 20 minutes
9×9″ square pan
Set aside 1/4 cup melted butter
In bowl:
1 1/4 cups flour
2 tsp. sugar
2 tsp. baking powder
1 tsp. salt
2/3 c. milk
Stir until dough forms (30 strokes)
Turn dough onto floured board.
Knead for about 10 minutes.
Roll out to 8 inch square.
With floured knife divide dough in half and 9 (4 inch strips). (RecipeCurio note: can someone clarify this? I'm not sure I'm reading this right)
Dip strips in butter. Arrange strips close together in 2 rolls on cookie sheet.
More Recipes For You To Enjoy: