This recipe was clipped from a newspaper, date unknown. Recipe is typed below along with a scanned copy.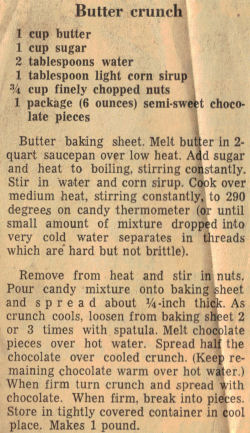 Butter Crunch
1 cup butter
1 cup sugar
2 tablespoons water
1 tablespoon light corn sirup
3/4 cup finely chopped nuts
1 package (6 ounces) semi-sweet chocolate pieces
Butter baking sheet. Melt butter in 2-quart saucepan over low heat. Add sugar and heat to boiling, stirring constantly. Stir in water and corn sirup. Cook over medium heat, stirring constantly, to 290 degrees on candy thermometer (or until small amount of mixture dropped into very cold water separates in threads which are hard but not brittle).
Remove from heat and stir in nuts. Pour candy mixture onto baking sheet and spread about 1/4-inch thick. As crunch cools, loosen from baking sheet 2 or 3 times with spatula. Melt chocolate pieces over hot water. Spread half the chocolate over cooled crunch. (Keep remaining chocolate warm over hot water.) When firm turn crunch and spread with chocolate. When firm, break into pieces. Store in tightly covered container in cool place. Makes 1 pound.
More Recipes For You To Enjoy: