This recipe was clipped from a magazine, date unknown but the recipes in this collection spanned the years of 1940s through 1980s. This was originally taped to a recipe card but the tape is so yellowed and brittle with age that the tape no longer sticks. Recipe is typed below along with a scanned copy.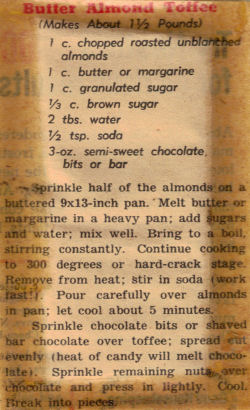 Butter Almond Toffee
(Makes About 1 1/2 Pounds)
1 c. chopped roasted unblanched almonds
1 c. butter or margarine
1 c. granulated sugar
1/3 c. brown sugar
2 tbs. water
1/2 tsp. soda
3-oz. semi-sweet chocolate bits or bar
Sprinkle half of the almonds on a buttered 9×13-inch pan. Melt butter or margarine in a heavy pan; add sugars and water; mix well. Bring to a boil, stirring constantly. Continue cooking to 300 degrees or hard-crack stage. Remove from heat; stir in soda (work fast!). Pour carefully over almonds in pan; let cool about 5 minutes.
Sprinkle chocolate bits or shaved bar chocolate over toffee; spread out evenly (heat of candy will melt chocolate). Sprinkle remaining nuts over chocolate and press in lightly. Cool. Break into pieces.
More Recipes For You To Enjoy: