This handwritten recipe is from a large collection, the card is somewhat yellowed with age but still in good shape. Recipe is typed below along with a scanned copy.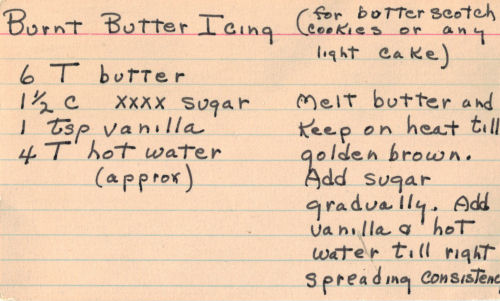 Burnt Butter Icing
(for butterscotch cookies or any light cake)
6 T butter
1 1/2 c XXXX sugar
1 tsp vanilla
4 T hot water (approx)
Melt butter and keep on heat till golden brown. Add sugar gradually. Add vanilla & hot water till right spreading consistency.
RecipeCurio Note: XXXX sugar is confectioners' sugar, the XXXX represents the degree of fineness
More Recipes For You To Enjoy: