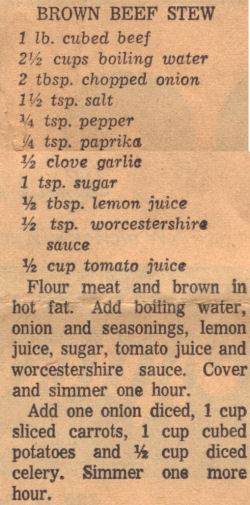 This vintage recipe was clipped from a newspaper and found in a large collection, date unknown. I've typed it below along with a scanned copy.
BROWN BEEF STEW
1 lb. cubed beef
2 1/2 cups boiling water
2 tbsp. chopped onion
1 1/2 tsp. salt
1/4 tsp. pepper
1/4 tsp. paprika
1/2 clove garlic
1 tsp. sugar
1/2 tbsp. lemon juice
1/2 tsp. worcestershire sauce
1/2 cup tomato juice
Flour meat and brown in hot fat. Add boiling water, onion and seasonings, lemon juice, sugar, tomato juice and worcestershire sauce. Cover and simmer one hour.
Add one onion diced, 1 cup sliced carrots, 1 cup cubed potatoes and 1/2 cup diced celery. Simmer one more hour.
More Recipes For You To Enjoy: