This recipe was printed on a promo slip for Durkee Famous Foods, date unknown. I've typed it below along with a scanned copy.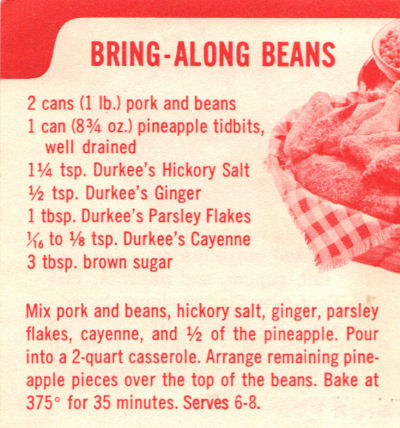 BRING-ALONG BEANS
2 cans (1 lb.) pork and beans
1 can (8 3/4 oz.) pineapple tidbits, well drained
1 1/4 tsp. Durkee's Hickory Salt
1/2 tsp. Durkee's Ginger
1 tbsp. Durkee's Parsley Flakes
1/16 to 1/8 tsp. Durkee's Cayenne
3 tbsp. brown sugar
Mix pork and beans, hickory salt, ginger, parsley flakes, cayenne, and 1/2 of the pineapple. Pour into a 2-quart casserole. Arrange remaining pineapple pieces over the top of the beans. Bake at 375° for 35 minutes. Serves 6-8.
More Recipes For You To Enjoy: