This recipe was clipped from a newspaper, date unknown. Recipe is typed below along with a scanned copy.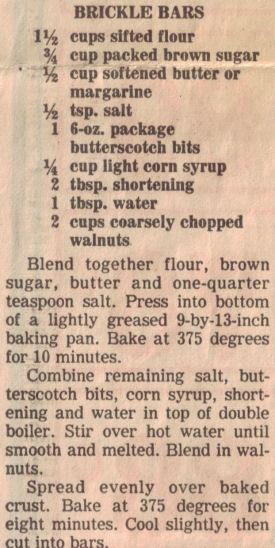 BRICKLE BARS
1 1/2 cups sifted flour
3/4 cup packed brown sugar
1/2 cup softened butter or margarine
1/2 tsp. salt
1 6-oz. package butterscotch bits
1/4 cup light corn syrup
2 tbsp. shortening
1 tbsp. water
2 cups coarsely chopped walnuts
Blend together flour, brown sugar, butter and one-quarter teaspoon salt. Press into bottom of a lightly greased 9-by-13-inch baking pan. Bake at 375 degrees for 10 minutes.
Combine remaining salt, butterscotch bits, corn syrup, shortening and water in top of double boiler. Stir over hot water until smooth and melted. Blend in walnuts.
Spread evenly over baked crust. Bake at 375 degrees for eight minutes. Cool slightly, then cut into bars.
More Recipes For You To Enjoy: