This handwritten recipe card has two different recipes (one on either side) and was found in a large collection, date unknown. I've typed both below along with a scanned copy of each recipe.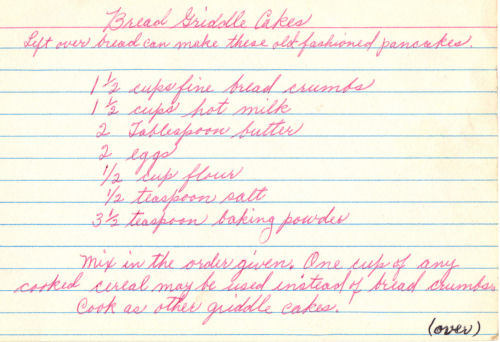 Bread Griddle Cakes
Left over bread can make these old-fashioned pancakes.
1 1/2 cups fine bread crumbs
1 1/2 cups hot milk
2 Tablespoons butter
2 eggs
1/2 cup flour
1/2 teaspoon salt
3 1/2 teaspoon baking powder
Mix in the order given. One cup of any cooked cereal may be used instead of bread crumbs.
Cook as other griddle cakes.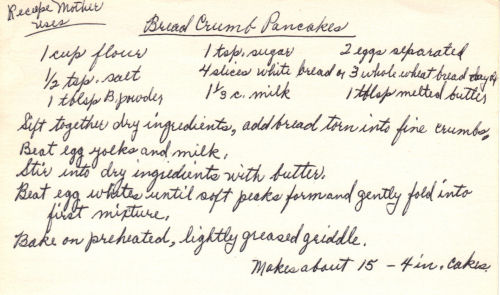 Recipe Mother Uses
Bread Crumb Pancakes
1 cup flour
1/2 tsp. salt
1 tblsp B. powder
1 tsp. sugar
4 slices white bread or 3 whole wheat bread day old
1 1/3 c. milk
2 eggs separated
1 tblsp melted butter
Sift together dry ingredients, add bread torn into fine crumbs.
Beat egg yolks and milk.
Stir into dry ingredients with butter.
Beat egg whites until soft peaks form and gently fold into first mixture.
Bake on preheated, lightly greased griddle.
Makes about 15 – 4 in. cakes.
More Recipes For You To Enjoy: