This recipe was clipped from a magazine, date unknown. Recipe is typed below along with a scanned copy.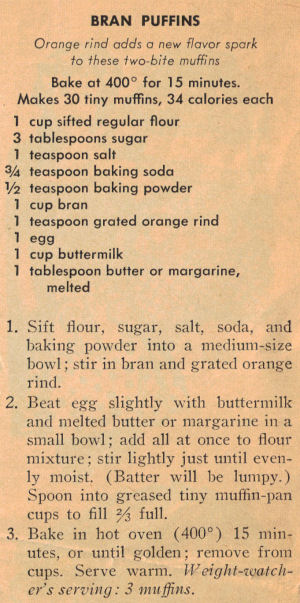 BRAN PUFFINS
Orange rind adds a new flavor spark to these two-bite muffins
Bake at 400° for 15 minutes.
Makes 30 tiny muffins, 34 calories each
1 cup sifted regular flour
3 tablespoons sugar
1 teaspoon salt
3/4 teaspoon baking soda
1/2 teaspoon baking powder
1 cup bran
1 teaspoon grated orange rind
1 egg
1 cup buttermilk
1 tablespoon butter or margarine, melted
Sift flour, sugar, salt, soda, and baking powder into a medium-size bowl; stir in bran and grated orange rind.
Beat egg slightly with buttermilk and melted butter or margarine in a small bowl; add all at once to flour mixture; stir lightly just until evenly moist. (Batter will be lumpy.) Spoon into greased tiny muffin-pan cups to fill 2/3 full.
Bake in hot oven (400°) 15 minutes, or until golden; remove from cups. Serve warm. Weight-watcher's serving: 3 muffins.
More Recipes For You To Enjoy: