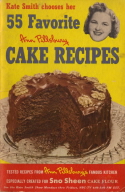 Here is page 8 from the vintage cookbook "Kate Smith chooses her 55 Favorite Ann Pillsbury CAKE RECIPES". This was published in 1952 by Pillsbury Mills, Inc. Kate Smith was a popular singer and radio personality with a career that began in the 1930s.
You can view all the pages in this cookbook by visiting this category: 55 Favorite Cake Recipes: Kate Smith, just click a page title to view that section. There is a scan of the page included below, you can click the image to view a larger copy.
Boston Cream Pie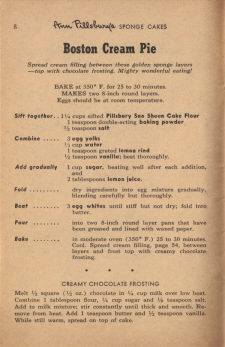 Spread cream filling between these golden sponge layers
–top with chocolate frosting. Mighty wonderful eating!
BAKE at 350° F. for 25 to 30 minutes.
MAKES two 8-inch round layers.
Eggs should be at room temperature.
Sift together . . . 1 1/4 cups sifted Pillsbury Sno Sheen Cake Flour
1 teaspoon double-acting baking powder
1/2 teaspoon salt
Combine . . . 3 egg yolks
1/3 cup water
1 teaspoon grated lemon rind
1/2 teaspoon vanilla; beat thoroughly.
Add gradually 1 cup sugar, beating well after each addition, and 2 tablespoons lemon juice.
Fold . . . dry ingredients into egg mixture gradually, blending carefully but thoroughly.
Beat . . . 3 egg whites until stiff but not dry; fold into batter.
Pour . . . into two 8-inch round layer pans that have been greased and lined with waxed paper.
Bake . . . in moderate oven (350° F.) 25 to 30 minutes. Cool. Spread cream filling, page 54, between layers and frost top with creamy chocolate frosting.
CREAMY CHOCOLATE FROSTING
Melt 1/2 square (1/2 oz.) chocolate in 1/4 cup milk over low heat. Combine 1 tablespoon flour, 1/4 cup sugar and 1/8 teaspoon salt. Add to milk mixture; stir constantly until thick and smooth. Remove from heat. Add 1 teaspoon butter and 1/2 teaspoon vanilla. While still warm, spread on top of cake.
More Recipes For You To Enjoy: