This is the second of three recipes included in the 1959 magazine article: Tips For Canning & Freezing Berries. Recipe is typed below.
Before using this recipe, it's important to read this page, the "Safe Canning & Food Preservation" section.
Blueberry Marmalade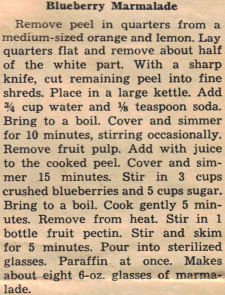 Remove peel in quarters from a medium-sized orange and lemon. Lay quarters flat and remove about half of the white part. With a sharp knife, cut remaining peel into fine shreds. Place in a large kettle. Add 3/4 cup water and 1/8 teaspoon soda. Bring to a boil. Cover and simmer for 10 minutes, stirring occasionally. Remove fruit pulp. Add with juice to the cooked peel. Cover and simmer 15 minutes. Stir in 3 cups crushed blueberries and 5 cups sugar. Bring to a boil. Cook gently 5 minutes. Remove from heat. Stir in 1 bottle fruit pectin. Stir and skim for 5 minutes.
Pour into sterilized glasses. Paraffin at once.
Makes about eight 6-oz. glasses of marmalade.
More Recipes For You To Enjoy: