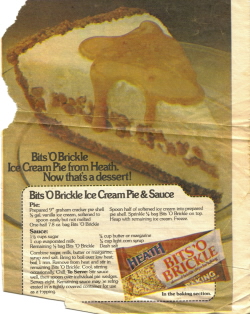 Magazine ad clipping for English Heath Toffee–Bits 'O Brickle. Date unknown, but judging from the article on the back that mentions a picture date of 'mid-70s', I'd say this is from the 1980s.
Bits 'O Brickle
Ice Cream Pie from Heath.
Now that's a dessert!
Bits 'O Brickle Ice Cream Pie & Sauce
Pie:
Prepared 9″ graham cracker pie shell
1/2 gal. vanilla ice cream, softened to spoon easily but not melted
One-half 7.8 oz. bag Bits 'O Brickle
Spoon half of softened ice cream into prepared pie shell. Sprinkle 1/2 bag Bits 'O Brickle on top. Heap with remaining ice cream. Freeze.
Sauce:
1 1/2 cups sugar
1 cup evaporated milk
Remaining 1/2 bag Bits 'O Brickle
1/4 cup butter or margarine
1/4 cup light corn syrup
Dash salt
Combine sugar, milk, butter or margarine, syrup and salt. Bring to boil over low heat; boil 1 min. Remove from heat and stir in remaining Bits 'O Brickle. Cool, stirring occasionally. Chill. To Serve: Stir sauce well, then spoon over individual pie wedges. Serves eight. Remaining sauce may be refrigerated in a tightly covered container for use as a topping.
More Recipes For You To Enjoy: