This recipe comes from the newspaper column "Winter Texan Times Recipes", date unknown. Recipe is typed below along with a scanned copy.
From The Kitchen
By VIRGINIA SUNDERMAN
I was recently given an unusual fudge recipe by Beverly Bernhardt of Tradewinds Park, Mission. Beverly said she received it from Bethany Keenan, a good friend in Minnesota. So this is a well-traveled recipe. It is a good one, too. I can vouch for it since I tried it out the day after I received the recipe. Maybe you'd like to try it, too, for something special. Here, then, is:
Beverly's Oatmeal Fudge
1 c. white sugar
1 c. brown sugar
1/2 c. butter or margarine
1/2 c. whipping cream (or canned milk)
1 c. quick oatmeal (not instant)
1 c. chocolate chips
1 c. miniature marshmallows
1 t. vanilla
1 c. chopped walnuts (optional)
In a large saucepan combine the sugars, butter and cream (or milk). Bring to a good boil and boil for 2 minutes, stirring all the time. Turn off burner and stir in oatmeal. Let mixture stand for exactly 3 minutes. Add chocolate chips and stir until melted. Add marshmallows, vanilla and nuts. Stir until marshmallows are melted a little. Pour into an 8″ x 8″ greased pan. Allow to cool. Be sure to watch the clock for both the 2 and the 3 minute times. It's easy, quick, and delicious!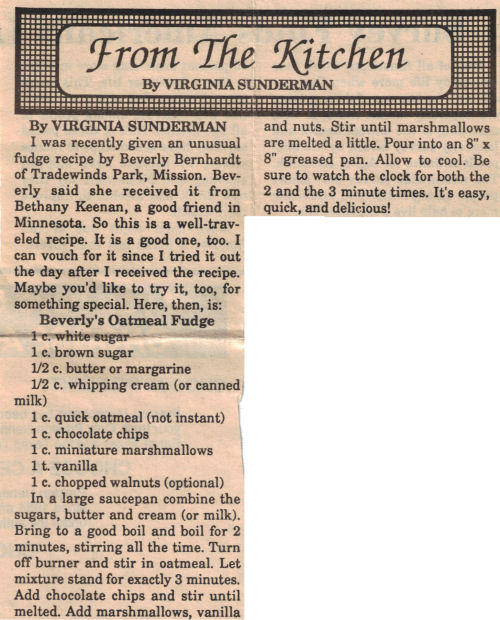 More Recipes For You To Enjoy: