This recipe was clipped from a newspaper, date unknown. Recipe is typed below along with a scanned copy.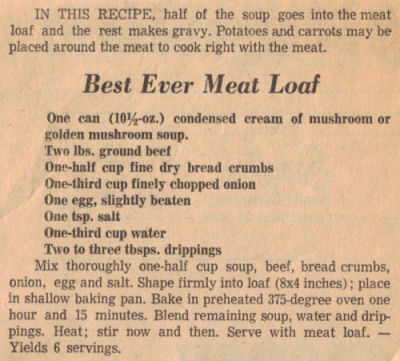 IN THIS RECIPE, half of the soup goes into the meat loaf and the rest makes gravy. Potatoes and carrots may be placed around the meat to cook right with the meat.
Best Ever Meat Loaf
One can (10½-oz.) condensed cream of mushroom or golden mushroom soup.
Two lbs. ground beef
One-half cup fine dry bread crumbs
One-third cup finely chopped onion
One egg, slightly beaten
One tsp. salt
One-third cup water
Two to three tbsps. drippings
Mix thoroughly one-half cup soup, beef, bread crumbs, onion, egg and salt. Shape firmly into loaf (8×4 inches); place in shallow baking pan. Bake in preheated 375-degree oven one hour and 15 minutes. Blend remaining soup, water and drippings. Heat; stir now and then. Serve with meat loaf.
–Yields 6 servings.
More Recipes For You To Enjoy: