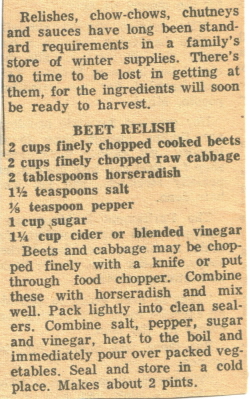 Here is an old newspaper recipe clipping for Beet Relish. Date Unknown.
Before using this recipe, it's important to read this page, the "Safe Canning & Food Preservation" section.
Relishes, chow-chows, chutneys and sauces have long been standard requirements in a family's store of winter supplies. There's no time to be lost in getting at them, for the ingredients will soon be ready to harvest.
BEET RELISH
2 cups finely chopped cooked beets
2 cups finely chopped raw cabbage
2 tablespoons horseradish
1 1/2 teaspoons salt
1/8 teaspoon pepper
1 cup sugar
1 1/4 cup cider or blended vinegar
Beets and cabbage may be chopped finely with a knife or put through food chopper. Combine these with horseradish and mix well. Pack lightly into clean sealers. Combine salt, pepper, sugar and vinegar, heat to the boil and immediately pour over packed vegetables. Seal and store in a cold place. Makes about 2 pints.
More Recipes For You To Enjoy: