This is a recipe found in a box of old recipes purchased at a lot sale. The recipe was typed using a typewriter on an index card. Date unknown. Overall the recipe is posted below true to original copy, but I did clean it up a bit ;).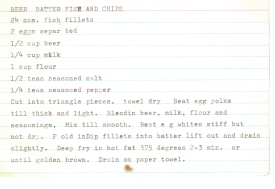 Beer Batter Fish and Chips
24 ozs fish fillets
2 eggs separated
1/2 cup beer
1/4 cup milk
1 cup flour
1/2 teas seasoned salt
1/4 teas seasoned pepper
Cut into triangle pieces. Towel dry. Beat egg yolks till thick and light. Blend in beer, milk, flour and seasonings, Mix till smooth. Beat egg whites stiff but not dry. Fold in dip fillets into batter lift out and drain slightly. Deep fry in hot fat 375° 2 – 3 min. or until golden brown. Drain on paper towel.
More Recipes For You To Enjoy: