This is a recipe clipping from a magazine with no date, but I believe the year is 1971 due to the note at bottom: U.S. Dept. of Labor estimated national average retail food prices December 1971. General Foods Kitchens is in the bottom right corner.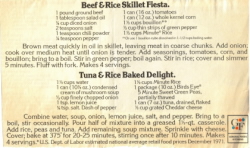 Beef & Rice Skillet Fiesta.
1 pound ground beef
1 tablespoon salad oil
1/4 cup diced onion
2 teaspoons salt
1 teaspoon chili powder
1/4 teaspoon pepper
1 can (16 oz.) tomatoes
1 can (12 oz.) whole kernel corn
1 1/2 cups bouillon**
1/2 cup thin strips of green pepper
1 1/2 cups Minute Rice
**Or use 1 bouillon cube dissolved in 1-1/2 cups boiling water.
Brown meat quickly in oil in skillet, leaving meat in coarse chunks. Add onion; cook over medium heat until onion is tender. Add seasonings, tomatoes, corn, and bouillon; bring to a boil. Stir in green pepper; boil again. Stir in rice; cover and simmer 5 minutes. Fluff with fork. Makes 4 servings.
Tuna & Rice Baked Delight.
1 1/2 cups water
1 can (10 1/2 oz.) condensed cream of mushroom soup
1/3 cup finely chopped onion
1 tsp. lemon juice
1/4 tsp. salt. Dash of pepper
1 1/2 cups Minute Rice
1 package (10 oz.) Birds Eye 5 Minute Sweet Green Peas, partially thawed
1 can (7 oz.) tuna, drained, flaked
1/2 cup grated Cheddar cheese
Combine water, soup, onion, lemon juice, salt, and pepper. Bring to a boil, stir occasionally. Pour half of mixture into a greased 1 1/2-qt. casserole. Add rice, peas and tuna. Add remaining soup mixture. Sprinkle with cheese. Cover; bake at 375° for 20-25 minutes, stirring once after 10 minutes. Makes 4 servings.
More Recipes For You To Enjoy: