Here's a newspaper recipe clipping for a beef noodle casserole, date unknown. Recipe is typed below along with a scanned copy.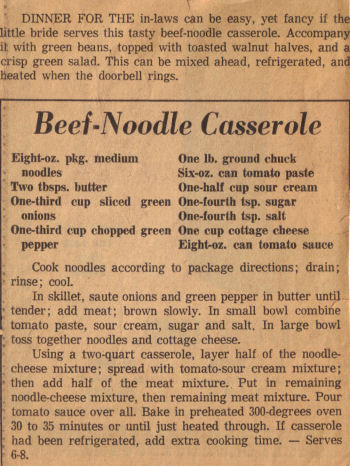 DINNER FOR THE in-laws can be easy, yet fancy if the little bride serves this tasty beef-noodle casserole. Accompany it with green beans, topped with toasted walnut halves, and a crisp green salad. This can be mixed ahead, refrigerated, and heated when the doorbell rings.
Beef-Noodle Casserole
Eight-oz. pkg. medium noodles
Two tbsps. butter
One-third cup sliced green onions
One-third cup chopped green pepper
One lb. ground chuck
Six-oz. can tomato paste
One-half cup sour cream
One-fourth tsp. sugar
One-fourth tsp. salt
One cup cottage cheese
Eight-oz. can tomato sauce
Cook noodles according to package directions; drain; rinse; cool.
In skillet, saute onions and green pepper in butter until tender; add meat; brown slowly. In small bowl combine tomato paste, sour cream, sugar and salt. In large bowl toss together noodles and cottage cheese.
Using a two-quart casserole, layer half of the noodle-cheese mixture; spread with tomato-sour cream mixture; then add half of the meat mixture. Put in remaining noodle-cheese mixture, then remaining meat mixture. Pour tomato sauce over all. Bake in preheated 300-degrees oven 30 to 35 minutes or until just heated through. If casserole had been refrigerated, add extra cooking time.–Serves 6-8.
More Recipes For You To Enjoy: