This recipe is from a full page magazine advertisement published in 1963. Recipe is typed below along with a scanned copy of the page which you can click to view larger if you like.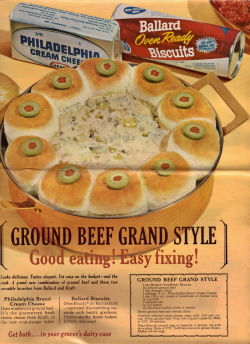 Another new recipe idea from Kraft and Ballard
GROUND BEEF GRAND STYLE
Good eating! Easy fixing!
Looks delicious. Tastes elegant. Yet easy on the budget–and the cook. A grand new combination of ground beef and those two versatile favorites from Ballard and Kraft.
Philadelphia Brand Cream Cheese
Does wonders for ground beef. It's the guaranteed fresh cream cheese from Kraft, in the new oval-design label.
Ballard Biscuits
OvenReady or Buttermilk–surround this bubbling casserole with hearty goodness. Unmistakably home-baked. Utterly delicious!
GROUND BEEF GRAND STYLE
1 can Ballard OvenReady Biscuits
1 1/2 pounds ground beef
1 cup chopped onion
1 package (8 oz.) Philadelphia Brand Cream Cheese
1 can (10 1/2 oz.) cream of mushroom or chicken soup
1/4 cup milk
1 teaspoon salt
1/4 cup catsup
1/3 cup sliced stuffed olives, if desired
Brown ground beef and onions, drain.
Combine softened cream cheese, soup, milk. Add salt, catsup, olives, ground beef. Pour into 2-quart casserole. Bake at 375°, 10 minutes.
Place Biscuits around edge of casserole; if desired, top with olive slices. Bake at 375°, 15-20 minutes until golden brown.
Makes 5-6 servings.
More Recipes For You To Enjoy: