This recipe was clipped from a magazine, date unknown. Recipe is typed below along with a scanned copy.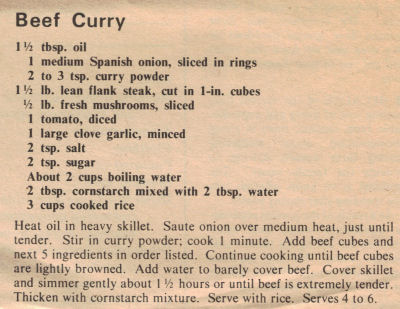 Beef Curry
1 1/2 tbsp. oil
1 medium Spanish onion, sliced in rings
2 to 3 tsp. curry powder
1 1/2 lb. lean flank steak, cut in 1-in. cubes
1/2 lb. fresh mushrooms, sliced
1 tomato, diced
1 large clove garlic, minced
2 tsp. salt
2 tsp. sugar
About 2 cups boiling water
2 tbsp. cornstarch mixed with 2 tbsp. water
3 cups cooked rice
Heat oil in heavy skillet. Saute onion over medium heat, just until tender. Stir in curry powder; cook 1 minute. Add beef cubes and next 5 ingredients in order listed. Continue cooking until beef cubes are lightly browned. Add water to barely cover beef. Cover skillet and simmer gently about 1 1/2 hours or until beef is extremely tender. Thicken with cornstarch mixture. Serve with rice. Serves 4 to 6.
More Recipes For You To Enjoy: