This recipe was written on a lined index card and found in a large collection, date unknown. I've typed it below along with a scanned copy.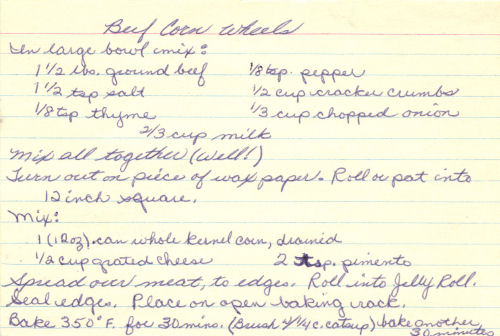 Beef Corn Wheels
In large bowl mix:
1 1/2 lbs. ground beef
1 1/2 tsp salt
1/8 tsp thyme
1/8 tsp pepper
1/2 cup cracker crumbs
1/3 cup chopped onion
2/3 cup milk
Mix all together (well!)
Turn out on piece of wax paper. Roll or pat into 12 inch square.
Mix:
1 (12 oz) can whole kernel corn, drained
1/2 cup grated cheese
2 tsp. pimento
Spread over meat, to edges. Roll into Jelly Roll. Seal edges. Place on open baking rack.
Bake 350° F. for 30 mins. (Brush w/ 1/4 c. catsup) bake another 30 minutes.
More Recipes For You To Enjoy: