This recipe comes from a promo recipe sheet by Mazola Oil titled "National Chicken Cooking Contest Winning Recipes". This was found in a large collection, date unknown. Recipe is typed below along with a scanned copy.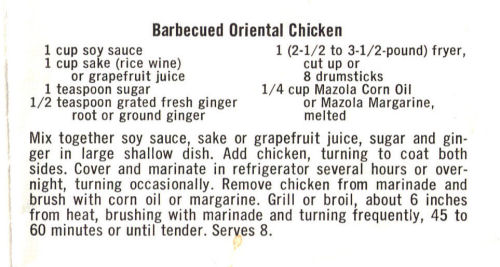 Barbecued Oriental Chicken
1 cup soy sauce
1 cup sake (rice wine) or grapefruit juice
1 teaspoon sugar
1/2 teaspoon grated fresh ginger root or ground ginger
1 (2-1/2 to 3-1/2-pound) fryer, cut up or 8 drumsticks
1/4 cup Mazola Corn Oil or Mazola Margarine, melted
Mix together soy sauce, sake or grapefruit juice, sugar and ginger in large shallow dish. Add chicken, turning to coat both sides. Cover and marinate in refrigerator several hours or overnight, turning occasionally. Remove chicken from marinade and brush with corn oil or margarine. Grill or broil, about 6 inches from heat, brushing with marinade and turning frequently, 45 to 60 minutes or until tender. Serves 8.
More Recipes For You To Enjoy: