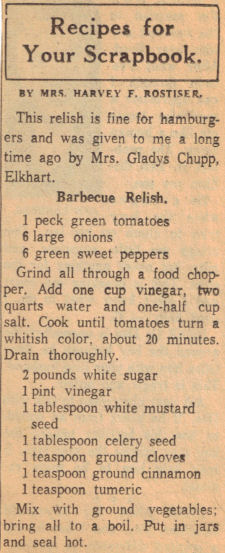 This recipe comes from a large lot of old recipe clippings for pickles, jams, jellies, preserves, relishes and more (wonderful!). Date is unknown but there is a picture of Ann Landers on the back that suggests 1960s or so. Recipe is typed below as-is.
Before using this recipe, it's important to read this page, the "Safe Canning & Food Preservation" section.
Recipes for Your Scrapbook.
By Mrs. Harvey F. Rostiser.
This relish is fine for hamburgers and was given to me a long time ago by Mrs. Gladys Chupp, Elkhart.
Barbecue Relish.
1 peck green tomatoes
6 large onions
6 green sweet peppers
Grind all through a food chopper. Add one cup vinegar, two quarts water and one-half cup salt. Cook until tomatoes turn a whitish color, about 20 minutes. Drain thoroughly.
2 pounds white sugar
1 pint vinegar
1 tablespoon white mustard seed
1 tablespoon celery seed
1 teaspoon ground cloves
1 teaspoon ground cinnamon
1 teaspoon tumeric
Mix with ground vegetables; bring all to a boil. Put in jars and seal hot.
More Recipes For You To Enjoy: