This handwritten recipe card was found in a large collection, date unknown. I've typed it below along with a scanned copy.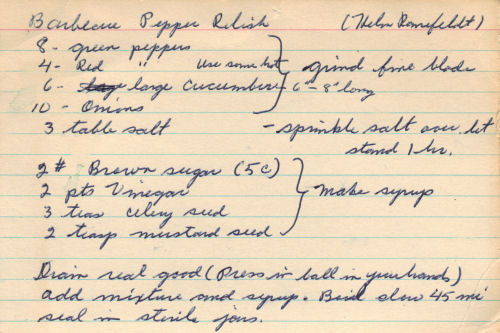 Barbecue Pepper Relish
Grind fine blade:
8 green peppers
4 red peppers (use some hot)
6 large cucumbers (6″-8″ long)
10 onions
3 table salt – sprinkle salt over, let stand 1 hr.
Make syrup:
2# brown sugar (5 c)
2 pts vinegar
3 teas celery seed
2 teasp mustard seed
Drain real good (press in ball in your hands)
Add mixture and syrup. Boil slow 45 min
Seal in sterile jars.
Please read the Safe Canning & Food Preservation section if planning on canning this recipe.
More Recipes For You To Enjoy: