There's no distribution information on this recipe card but I believe it could be a promo piece for Wheat Chex cereal since it's one of the ingredients. Date of publishing is unknown but likely 1980s-2000s. Recipe is typed below along with scanned copies of both front and back.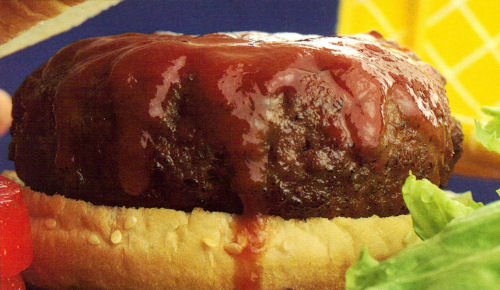 Barbecue Burgers
Broil or grill these pleasantly spicy hamburgers
1 egg, slightly beaten
1 1/2 teaspoons onion powder
1 1/2 teaspoons prepared horseradish
1 1/2 teaspoons Worcestershire sauce
3/4 teaspoon salt
3/4 teaspoon chili powder
2 tablespoons barbecue sauce
1 1/2 cups Wheat Chex cereal crushed to 1/2 cup
1 1/2 pounds lean ground beef
Combine first seven ingredients. Blend well. Mix in Wheat Chex crumbs and ground beef. Shape into six patties. Broil or grill 8-12 minutes or to desired doneness. Turn midway during cooking. Brush with additional barbecue sauce.
Surprise Burgers: Form into 12 thin patties about 4 1/2 inches in diameter (scant 1/3 cup). Combine one package (3 oz.) cream cheese, 1/4 cup chopped green onions with tops and 2 teaspoons barbecue sauce. Place rounded tablespoon in center of six patties. Cover each with second patty. Carefully seal edges. Broil or grill.
Makes 6 hamburgers.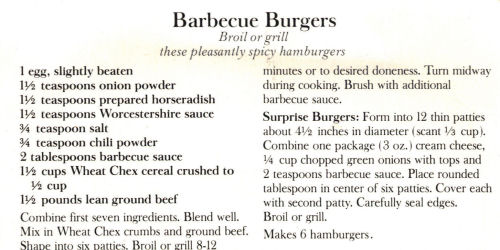 More Recipes For You To Enjoy: