This was a full page of recipes in Parade Magazine dated Aug. 4, 1957. All the recipes follow the graphic below: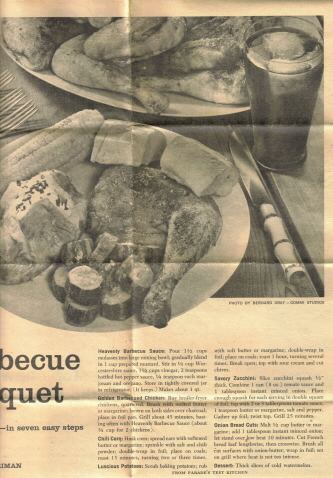 Barbecue banquet
'Super' eating–in seven easy steps
by Beth Merriman
Parade Food Editor
Heavenly Barbecue Sauce:: Pour 1 1/2 cups molasses into large mixing bowl; gradually blend in 1 cup prepared mustard. Stir in 1/3 cup Worcestershire sauce, 1 1/2 cups vinegar, 2 teaspoons bottled hot pepper sauce, 1/4 teaspoon each marjoram and oregano. Store in tightly covered jar in refrigerator. ((it keeps.) Makes about 1 qt.
Golden Barbecued Chicken: Buy broiler-fryer chickens, quartered. Brush with melted butter or margarine; brown on both sides over charcoal; place in foil pan. Grill about 45 minutes, basting often with Heavenly Barbecue Sauce (about 3/4 cup for 2 chickens).
Chili Corn: Husk corn; spread ears with softened butter or margarine; sprinkle with salt and chili powder; double-wrap in foil; place on coals; roast 15 minutes, turning two or three times.
Luscious Potatoes: Scrub baking potatoes; rub with soft butter or margarine; double-wrap in foil; place on coals; roast 1 hour, turning several times. Break open; top with sour cream and cut chives.
Savory Zucchini: Slize zucchini squash 1/2″ thick. Combine 1 can (8 oz.) tomato sauce and 1 tablespoon instant minced onion. Place enough squash for each serving in double square of foil; top with 2 or 3 tablespoons tomato sauce, 1 teaspoon butter or margarine, salt and pepper. Gather up foil; twist top. Grill 25 minutes.
Onion Bread Cuts: Melt 1/2 cup butter or margarine; add 1 tablespoon instant minced onion; let stand over low heat 10 minutes. Cut French bread loaf lengthwise, then crosswise. Brush all cut surfaces with onion-butter; wrap in foil; set on grill where heat is not too intense.
Dessert: Thick slices of cold watermelon.
FROM PARADE'S TEST KITCHEN
More Recipes For You To Enjoy: