This recipe was written on a lined index card and found in a large collection, date unknown. I've typed it below along with a scanned copy.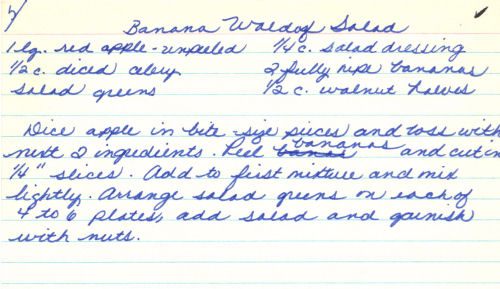 Banana Waldorf Salad
1 lg. red apple – unpeeled
1/2 c. diced celery
salad greens
1/4 c. salad dressing
2 fully ripe bananas
1/2 c. walnut halves
Dice apple in bite size pieces and toss with next 2 ingredients. Peel bananas and cut in 1/4″ slices. Add to first mixture and mix lightly. Arrange salad greens on each of 4 to 6 plates, add salad and garnish with nuts.
More Recipes For You To Enjoy: