This handwritten recipe comes from a collection dating from the 1950's thru 1970's. Recipe is typed below along with a scanned copy (front side only).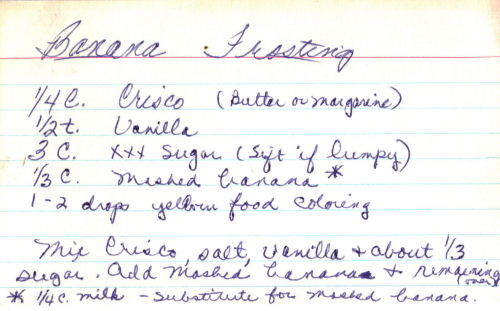 Banana Frosting
1/4 C. Crisco (Butter or margarine)
1/2 t. Vanilla
3 C. XXX Sugar (sift if lumpy)
1/3 C. Mashed banana*
1-2 drops yellow food coloring
Mix Crisco, salt, vanilla & about 1/3 sugar. Add mashed banana & remaining sugar alternately; mix until smooth & creamy. Add more sugar to thicken or banana to thin frosting if needed for gook spreading consistency.
*1/4 c. milk – substitute for mashed banana
RecipeCurio Note: XXX sugar is confectioners' sugar, the XXX specifies the degree of fineness
More Recipes For You To Enjoy: