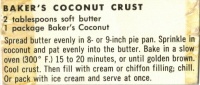 This was cut from cardboard packaging of some kind, date unknown. The cardboard piece seems to have been taped to something at one time due to the discoloration on the sides, probably an index card long lost.
The recipe is for the Baker's brand of coconut.
BAKER'S COCONUT CRUST
2 tablespoons soft butter
1 package Baker's Coconut
Spread butter evenly in 8- or 9-inch pie pan. Sprinkle in coconut and pat evenly into the butter. Bake in a slow oven (300° F.) 15 to 20 minutes, or until golden brown. Cool crust. Then fill with cream or chiffon filling; chill. Or pack with ice cream and serve at once.
More Recipes For You To Enjoy: