This recipe was clipped from a newspaper and found in a large collection, date unknown. I've typed it below along with a scanned copy.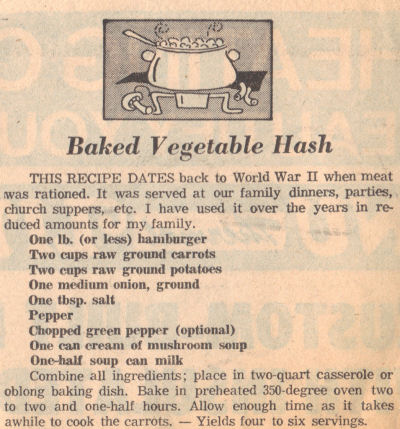 Baked Vegetable Hash
THIS RECIPE DATES back to World War II when meat was rationed. It was served at our family dinners, parties, church suppers, etc. I have used it over the years in reduced amounts for my family.
One lb. (or less) hamburger
Two cups raw ground carrots
Two cups raw ground potatoes
One medium onion, ground
One tbsp. salt
Pepper
Chopped green pepper (optional)
One can cream of mushroom soup
One-half soup can milk
Combine all ingredients; place in two-quart casserole or oblong baking dish. Bake in preheated 350-degree oven two to two and one-half hours. Allow enough time as it takes awhile to cook the carrots.–Yields four to six servings.
More Recipes For You To Enjoy: