This old handwritten recipe card was found in a large collection, date unknown. I've typed it below along with a scanned copy.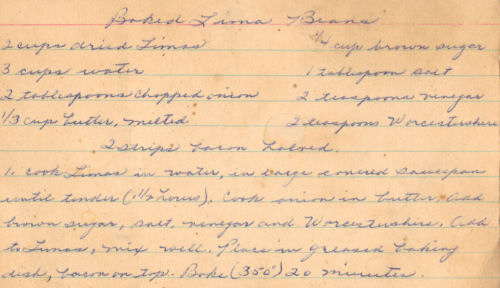 Baked Lima Beans
2 cups dried Limas
3 cups water
2 tablespoons chopped onion
1/3 cup butter, melted
1/4 cup brown sugar
1 tablespoon salt
2 teaspoons vinegar
2 teaspoons Worcestershire
2 strips bacon halved
Cook Limas in water in large covered saucepan until tender (1 1/2 hours). Cook onion in butter. Add brown sugar, salt, vinegar and Worcestershire. Add to Limas, mix well. Place in greased baking dish, bacon on top. Bake (350°) 20 minutes.
More Recipes For You To Enjoy: