This recipe was clipped from a newspaper and found in a large collection, date unknown. Recipe is typed below along with a scanned copy.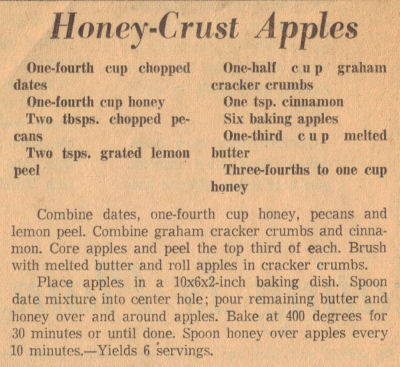 Honey-Crust Apples
One-fourth cup chopped dates
One-fourth cup honey
Two tbsps. chopped pecans
Two tsps. grated lemon peel
One-half cup graham cracker crumbs
One tsp. cinnamon
Six baking apples
One-third cup melted butter
Three-fourths to one cup honey
Combine dates, one-fourth cup honey, pecans and lemon peel. Combine graham cracker crumbs and cinnamon. Core apples and peel the top third of each. Brush with melted butter and roll apples in cracker crumbs.
Place apples in a 10x6x2-inch baking dish. Spoon date mixture into center hole; pour remaining butter and honey over and around apples. Bake at 400 degrees for 30 minutes or until done. Spoon honey over apples every 10 minutes.
–Yields 6 servings.
More Recipes For You To Enjoy: