This recipe was written on a large index card and found in a large collection, date unknown. Recipe is typed below along with a scanned copy.
Baked Chicken And Corn
350° for 55 to 60 min.
1 – broiler fryer chicken cut in serving pieces.
Brown in shortening and sprinkle with 1/2 tsp salt and 1/16 tsp. pepper
Set aside while you combine the following:
1 – 1# can whole kernel corn – drain and reserve liquid
1/2 c. fine dry bread crumbs
1/16 tsp. pepper
1/2 tsp. salt
2 eggs, slightly beaten
Add 1 1/2 c. liquid – add milk to corn liquid to make amount.
Place in 12x7x2″ sprayed pan.
Top with chicken.
Bake 350° oven for 55 to 60 min
Sprinkle with paprika & serve
May be refrigerated after mixed so is ready for oven.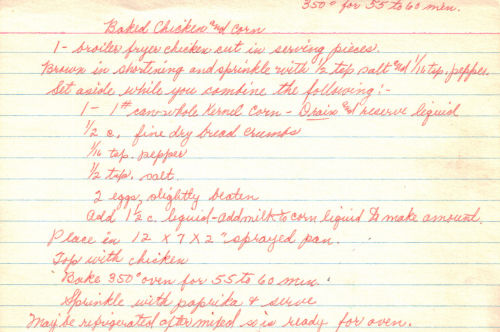 More Recipes For You To Enjoy: