I'm drawing a blank as to what to call this dish, a saucy/cheesy sandwich casserole? This was clipped from a magazine published in 1986. Recipe is clipped below along with a scanned copy.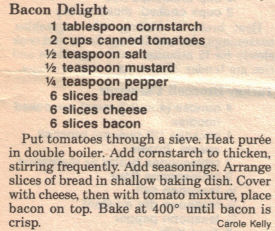 Bacon Delight
1 tablespoon cornstarch
2 cups canned tomatoes
1/2 teaspoon salt
1/2 teaspoon mustard
1/4 teaspoon pepper
6 slices bread
6 slices cheese
6 slices bacon
Put tomatoes through a sieve. Heat puree in double boiler. Add cornstarch to thicken, stirring frequently. Add seasonings. Arrange slices of bread in shallow baking dish. Cover with cheese, then with tomato mixture, place bacon on top. Bake at 400° until bacon is crisp.
More Recipes For You To Enjoy: