Here's an old recipe article that was clipped from a magazine and found in a large collection, no date. I've typed it out below along with a scanned copy.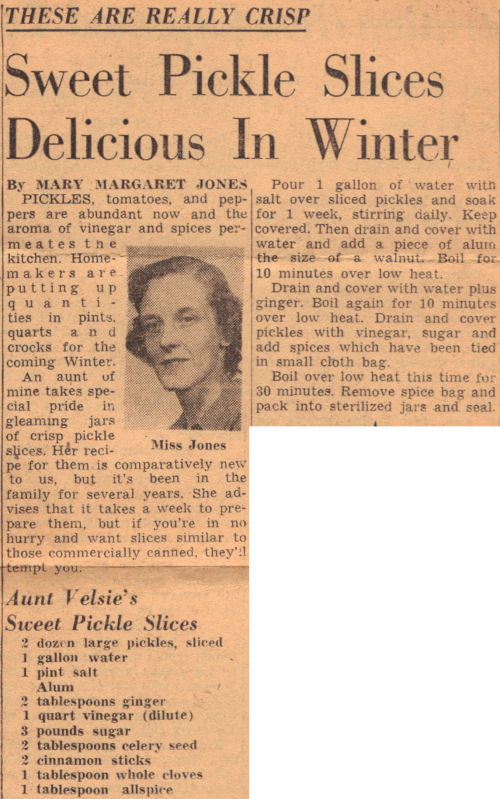 THESE ARE REALLY CRISP
Sweet Pickle Slices Delicious In Winter
By Mary Margaret Jones
PICKLES, tomatoes, and peppers are abundant now and the aroma of vinegar and spices permeates the kitchen. Homemakers are putting up quantities in pints, quarts and crocks for the coming Winter.
An aunt of mine takes special pride in gleaming jars of crisp pickle slices. Her recipe for them is comparatively new to us, but it's been in the family for several years. She advises that it takes a week to prepare them, but if you're in no hurry and want slices similar to those commercially canned, they'll tempt you.
Aunt Velsie's Sweet Pickle Slices
2 dozen large pickles, sliced
1 gallon water
1 pint salt
Alum
2 tablespoons ginger
1 quart vinegar (dilute)
3 pounds sugar
2 tablespoons celery seed
2 cinnamon sticks
1 tablespoon whole cloves
1 tablespoon allspice
Pour 1 gallon of water with salt over sliced pickles and soak for 1 week, stirring daily. Keep covered. Then drain and cover with water and add a piece of alum the size of a walnut. Boil for 10 minutes over low heat.
Drain and cover with water plus ginger. Boil again for 10 minutes over low heat. Drain and cover pickles with vinegar, sugar and add spices which have been tied in small cloth bag.
Boil over low heat this time for 30 minutes. Remove spice bag and pack into sterilized jars and seal.
Please read the Safe Canning & Food Preservation section if planning on canning this recipe.
More Recipes For You To Enjoy: