This recipe clipping comes from a large lot of old recipe clippings for pickles, jams, jellies, relishes and more. Date is unknown but the recipes in this lot suggest 1940s through to the 1960s. Recipe is typed below as-is.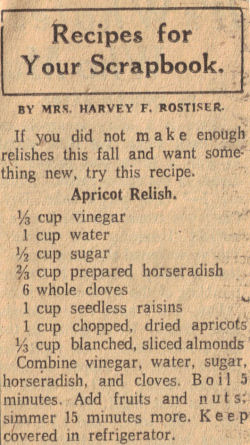 Recipes for Your Scrapbook.
By Mrs. Harvey F. Rostiser.
If you did not make enough relishes this fall and want something new, try this recipe.
Apricot Relish.
1/3 cup vinegar
1 cup water
1/2 cup sugar
2/3 cup prepared horseradish
6 whole cloves
1 cup seedless raisins
1 cup chopped, dried apricots.
1/3 cup blanched, sliced almonds.
Combine vinegar, water, sugar, horseradish, and cloves. Boil 5 minutes. Add fruits and nuts; simmer 15 minutes more. Keep covered in refrigerator.
More Recipes For You To Enjoy: