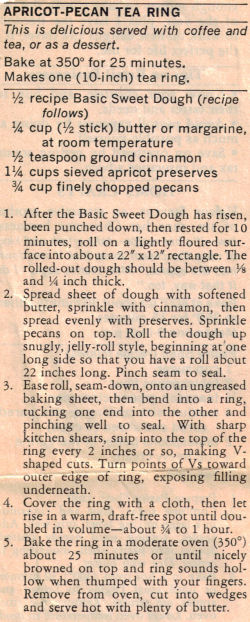 This recipe was clipped from Family Circle Magazine and published in 1978, this was found in a large collection. Recipe is typed below along with a scanned copy (recipe was across two columns so I snipped them together for the scan).
APRICOT-PECAN TEA RING
This is delicious served with coffee and tea, or as a dessert.
Bake at 350° for 25 minutes.
Makes one (10-inch) tea ring.
1/2 recipe Basic Sweet Dough (recipe is here)
1/4 cup (1/2 stick) butter or margarine, at room temperature
1/2 teaspoon ground cinnamon
1 1/4 cups sieved apricot preserves
3/4 cup finely chopped pecans
After the Basic Sweet Dough has risen, been punched down, then rested for 10 minutes, roll on a lightly floured surface into about a 22″ x 12″ rectangle. The rolled-out dough should be between 1/8 and 1/4 inch thick.
Spread sheet of dough with softened butter, sprinkle with cinnamon, then spread evenly with preserves. Sprinkle pecans on top. Roll the dough up snugly, jelly-roll style, beginning at one long side so that you have a roll about 22 inches long. Pinch seam to seal.
Ease roll, seam-down, onto an ungreased baking sheet, then bend into a ring, tucking one end into the other and pinching well to seal. With sharp kitchen shears, snip into the top of the ring every 2 inches or so, making V-shaped cuts. Turn points of Vs toward outer edge of ring, exposing filling underneath.
Cover the ring with a cloth, then let rise in a warm, draft-free spot until doubled in volume–about 3/4 to 1 hour.
Bake the ring in a moderate oven (350°) about 25 minutes or until nicely browned on top and ring sounds hollow when thumped with your fingers. Remove from oven, cut into wedges and serve hot with plenty of butter.
More Recipes For You To Enjoy: