This recipe was clipped from a label of some kind, maybe applesauce since it's one of the ingredients. Date unknown. Recipe is typed below along with a scanned copy.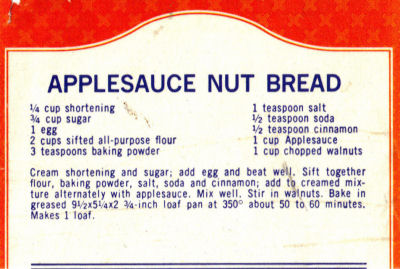 APPLESAUCE NUT BREAD
1/4 cup shortening
3/4 cup sugar
1 egg
2 cups sifted all-purpose flour
3 teaspoons baking powder
1 teaspoon salt
1/2 teaspoon soda
1/2 teaspoon cinnamon
1 cup Applesauce
1 cup chopped walnuts
Cream shortening and sugar; add egg and beat well. Sift together flour, baking powder, salt, soda and cinnamon; add to creamed mixture alternately with applesauce. Mix well. Stir in walnuts. Bake in greased 9½x5¼x2 ¾-inch loaf pan at 350° about 50 to 60 minutes. Makes 1 loaf.
More Recipes For You To Enjoy: