This recipe was written on a sheet of lined paper and found folded in the back of an old recipe box, date unknown. Recipe is typed below as-is along with a scanned copy.
Applesauce Fruit Cake
3 c applesauce
2 c sugar
1/2 c butter
1 c nuts
1 c seedless raisins
6 1/4 oz dates
1/2 c candied cherries
1/2 c candied pineapple
1 t cinn
1 t allspice
1/4 t nutmeg
4 t soda
3 c flour
Cream butter & sugar. Add applesauce which has soda beaten into it. Mix fruit & nuts with 1 c flour. Add to mixture – add flour & spices.
Bake at 350° 2 hrs. in tube pan. Place pan of water in bottom of oven. Grease well & line with brown paper. Can omit raisins & sub. nuts.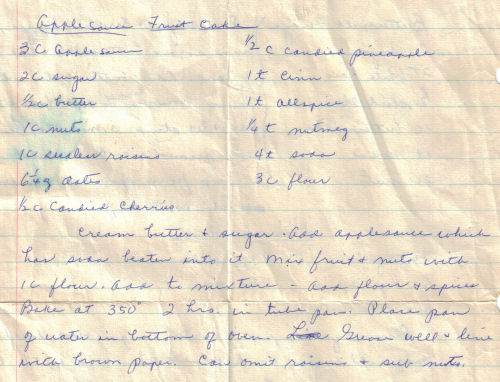 More Recipes For You To Enjoy: