This recipe is a Pillsbury Bake Off Contest winner that was clipped from packaging of some kind, probably a bag of Pillsbury's Best Flour. Date is unknown. The recipe is typed in full below along with a scanned copy.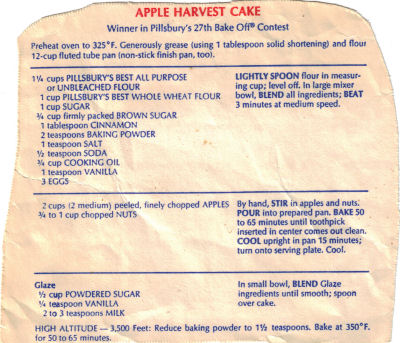 APPLE HARVEST CAKE
Winner in Pillsbury's 27th Bake Off Contest
Preheat oven to 325°F. Generously grease (using 1 tablespoon solid shortening) and flour 12-cup fluted tube pan (non-stick finish pan, too).
1 1/4 cups PILLSBURY'S BEST ALL PURPOSE or UNBLEACHED FLOUR
1 cup PILLSBURY'S BEST WHOLE WHEAT FLOUR
1 cup SUGAR
3/4 cup firmly packed BROWN SUGAR
1 tablespoon CINNAMON
2 teaspoons BAKING POWDER
1 teaspoon SALT
1/2 teaspoon SODA
3/4 cup COOKING OIL
1 teaspoon VANILLA
3 EGGS
LIGHTLY SPOON flour in measuring cup; level off. In large mixer bowl, BLEND all ingredients; BEAT 3 minutes at medium speed.
2 cups (2 medium) peeled, finely chopped APPLES
3/4 to 1 cup chopped NUTS
By hand, STIR in apples and nuts. POUR into prepared pan. BAKE 50 to 65 minutes until toothpick inserted in center comes out clean. COOL upright in pan 15 minutes; turn onto serving plate. Cool.
Glaze
1/2 cup POWDERED SUGAR
1/4 teaspoon VANILLA
2 to 3 teaspoons MILK
In small bowl, BLEND Glaze ingredients until smooth; spoon over cake.
HIGH ALTITUDE–3,500 Feet: Reduce baking powder to 1 1/2 teaspoons. Bake at 350°F. for 50 to 65 minutes.
More Recipes For You To Enjoy: