This recipe was clipped from a magazine and found in a large collection, date unknown. I've typed it below along with a scanned copy.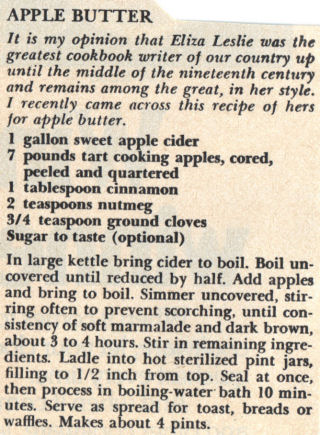 Apple Butter
It is my opinion that Eliza Leslie was the greatest cookbook writer of our country up until the middle of the nineteenth century and remains among the great, in her style. I recently came across this recipe of hers for apple butter.
1 gallon sweet apple cider
7 pounds tart cooking apples, cored, peeled and quartered
1 tablespoon cinnamon
2 teaspoons nutmeg
3/4 teaspoon ground cloves
Sugar to taste (optional)
In large kettle bring cider to boil. Boil uncovered until reduced by half. Add apples and bring to boil. Simmer uncovered, stirring often to prevent scorching, until consistency of soft marmalade and dark brown, about 3 to 4 hours. Stir in remaining ingredients. Ladle into hot sterilized pint jars, filling to 1/2 inch from top. Seal at once, then process in boiling-water bath 10 minutes. Serve as spread for toast, breads or waffles. Makes about 4 pints.
Please read the Safe Canning & Food Preservation section if planning on canning this recipe.
More Recipes For You To Enjoy: