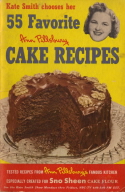 Here is page 12 from the vintage cookbook "Kate Smith chooses her 55 Favorite Ann Pillsbury CAKE RECIPES". This was published in 1952 by Pillsbury Mills, Inc. Kate Smith was a popular singer and radio personality with a career that began in the 1930s.
You can view all the pages in this cookbook by visiting this category: 55 Favorite Cake Recipes: Kate Smith, just click a page title to view that section. There is a scan of the page included below, you can click the image to view a larger copy.
Angel Food Swirl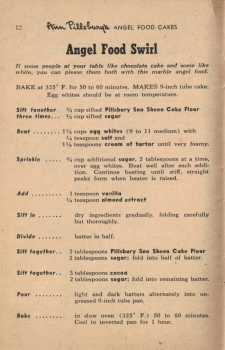 If some people at your table like chocolate cake and some like white, you can please them both with this marble angel food.
BAKE at 325° F. for 50 to 60 minutes. MAKES 9-inch tube cake.
Egg whites should be at room temperature.
Sift together 3/4 cup sifted Pillsbury Sno Sheen Cake Flour
three times . . . 1/2 cup sifted sugar
Beat . . . 1 1/4 cups egg whites (9 to 11 medium) with
1/4 teaspoon salt and
1 1/4 teaspoons cream of tartar until very foamy.
Sprinkle . . . 3/4 cup additional sugar, 2 tablespoons at a time, over egg whites. Beat well after each addition. Continue beating until stiff, straight peaks form when beater is raised.
Add . . . 1 teaspoon vanilla
1/4 teaspoon almond extract
Sift in . . . dry ingredients gradually, folding carefully but thoroughly.
Divide . . . batter in half.
Sift together . . 2 tablespoons Pillsbury Sno Sheen Cake Flour
2 tablespoons sugar; fold into half of batter.
Sift together . . . 3 tablespoons cocoa
2 tablespoons sugar; fold into remaining batter.
Pour . . . light and dark batters alternately into ungreased 9-inch tube pan.
Bake . . in slow oven (325° F.) 50 to 60 minutes.
Cool in inverted pan for 1 hour.
More Recipes For You To Enjoy: