This vintage recipe card was distributed by Watkins and found in a large collection. Date unknown but the phone number listed on the back is 4 digits + 2 letters so it's at least a few decades old. Recipe is typed below along with a scanned copy.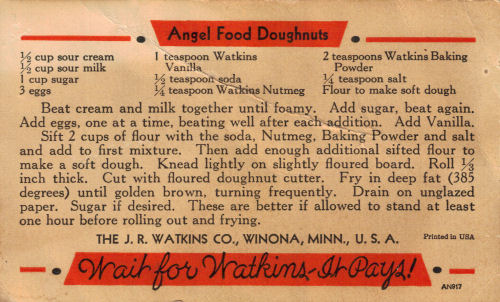 Angel Food Doughnuts
1/2 cup sour cream
1/2 cup sour milk
1 cup sugar
3 eggs
1 teaspoon Watkins Vanilla
1/2 teaspoon soda
1/4 teaspoon Watkins Nutmeg
2 teaspoons Watkins Baking Powder
1/4 teaspoon salt
Flour to make soft dough
Beat cream and milk together until foamy. Add sugar, beat again. Add eggs, one at a time, beating well after each addition. Add Vanilla.
Sift 2 cups of flour with the soda, Nutmeg, Baking Powder and salt and add to first mixture. Then add enough additional sifted flour to make a soft dough. Knead lightly on slightly floured board. Roll 1/3 inch thick. Cut with floured doughnut cutter. Fry in deep fat (385 degrees) until golden brown, turning frequently. Drain on unglazed paper. Sugar if desired. These are better if allowed to stand at least one hour before rolling out and frying.
THE J.R. WATKINS CO., WINONA, MINN., U.S.A.
Wait for Watkins – It Pays!
More Recipes For You To Enjoy: