This recipe was written on a lined index card and found in a large collection, date unknown. Recipe is typed below along with a scanned copy.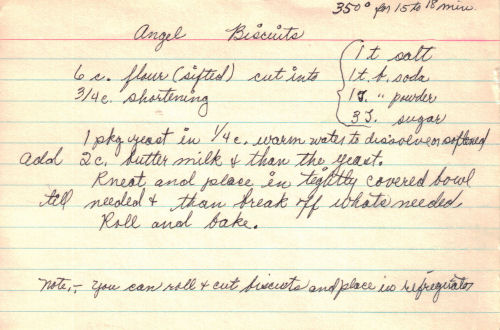 Angel Biscuits
350° for 15 to 18 min
6 c. flour (sifted) cut into 3/4 c. shortening, mix in:
1 t. salt
1 t. b. soda
1 T. " powder
3 T. sugar
1 pkg yeast in 1/4 c. warm water to dissolve or softened. Add 2 c. buttermilk & then the yeast.
Knead and place in tightly covered bowl till needed & then break off what's needed. Roll and bake.
Note — you can roll & cut biscuits and place in refrigerator.
More Recipes For You To Enjoy: