Here's a handwritten recipe that was found in a large collection of old recipes, the date is unknown but I have another recipe dated 1971 with the same handwriting and the word "Amish" written in the top left corner just like this one. Recipe is typed in full below as well as a scanned copy (click to view large).
Amish Pickled Eggs and Beets
2 c. cleaned and trimmed beets, fresh
1/4 c. sugar
1/2 c. vinegar
1/2 c. cold water
1/2 tsp. salt
6 hard cooked eggs, peeled
Cook beets until tender and skin.
Boil all ingredients except the eggs together; let mixture stand for several days.
Add whole eggs and let stand in the refrigerator two days.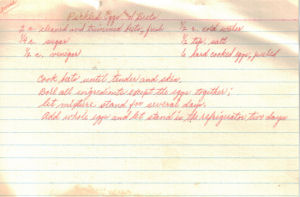 More Recipes For You To Enjoy: