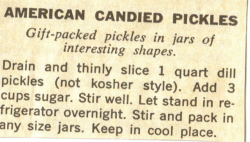 This is a small 2 1/2 x 1 1/2 inch clipping from a magazine, date unknown.
AMERICAN CANDIED PICKLES
Gift-packed pickles in jars of interesting shapes.
Drain and thinly slice 1 quart dill pickles (not kosher style). Add 3 cups sugar. Stir well. Let stand in refrigerator overnight. Stir and pack in any size jars. Keep in cool place.
More Recipes For You To Enjoy: